Misophonia, literally "hatred of sound", is believed to be a neurological disorder characterized by negative experiences (anger, flight, hatred, disgust) triggered by specific sounds. The sounds can be loud or soft. The term was coined by American neuroscientists Pawel Jastreboff and Margaret Jastrebof and is often used interchangeably with the term selective sound sensitivity. Misophonia has not been classified as a discrete disorder in DSM-V-TR or ICD-10.
The disorder comprises a unique set of symptoms, most likely attributable to neurological causes unrelated to hearing-system dysfunction. It can be described as an immediate and extremely negative emotional response accompanied by an automatic physiological flight response to identifiable auditory, visual, and olfactory stimuli. The disorder disrupts daily living and can have a significant impact on social interactions. A 2013 review of the most current neurological studies and fMRI studies of the brain as it relates to the disorder postulates that abnormal or dysfunctional assessment of neural signals occurs in the anterior cingulate cortex and insular cortex. These cortices are also implicated in Tourette Syndrome, and are the hub for processing anger, pain, and sensory information. Other researchers concur that the dysfunction is in central nervous system structures. It has been speculated that the anatomical location may be more central than that involved in hyperacusis.
Symptoms
People who have misophonia are most commonly angered, and even enraged, by common ambient sounds, such as other people clipping their nails, brushing teeth, eating crushed ice, eating, breathing, sniffing, talking, sneezing, yawning, walking, chewing gum, laughing, snoring, typing on a keyboard, whistling or coughing; certain consonants; or repetitive sounds. Some are also affected by visual stimuli, such as repetitive foot or body movements, fidgeting, or movement they observe out of the corners of their eyes. Intense anxiety and avoidant behavior may develop, which can lead to decreased socialization. Some people feel the compulsion to mimic what they hear or see. Mimicry is an automatic, non-conscious, and social phenomenon. It has a palliative aspect, making the sufferer feel better. The act of mimicry can elicit compassion and empathy, which ameliorates and lessens hostility, competition, and opposition. There is also a biological basis for how mimicry reduces the suffering from a trigger.
Prevalence and comorbidity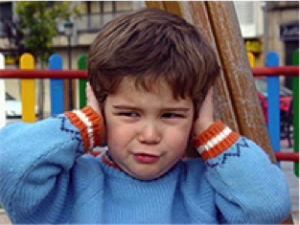 The prevalence of misophonia is unknown, but groups of people identifying with the condition suggest it is more common than previously recognized. Among patients with tinnitus, which is prevalent in 4-5% of the general population, some surveys report prevalence as high as 60%, while prevalence in a 2010 study was measured at 10%.
A Dutch study published in 2013 of a sample of 42 patients with misophonia found a low incidence of psychiatric disorders, with the exception of Obsessive-Compulsive Personality Disorder (52.4%).
It has been suggested that there is a connection between misophonia and synesthesia, a neurological condition in which stimulation of one sensory or cognitive pathway leads to automatic, involuntary experiences in a second sensory or cognitive pathway. The basic problem may be a pathological distortion of connections between various limbic structures and the auditory cortex, causing sound-emotion synesthesia. There are people with both misophonia and synesthesia, and many people with synesthesia have more than one form of synesthesia (there are over 60 reported types). Misophonia may very well be another type of synesthesia.
If you think you have symptoms of Misophonia and would like to schedule a consultation, please call me today.